Welcome to
Honiton Plumbing & Heating,

Heating and Plumbing Engineers in East Devon. 'Our reputation is built on a balance of reliability, trustworthiness and professionalism.'
Renewable Technology
We are committed to energy efficiency and the benefits it has to conserving our planet, this means we are the forefront of renewable energy technologies. We supply and install all renewable technologies from solar panels to ground source heat pumps, air source heat pumps & under floor heating systems.

We are registered & authorised installers for Nu Heat and are able to undertake all the renewables that Nu Heat offer. We are currently involved with many renewable energy projects throughout the Southwest and are very proud to be associated with one of the market leaders 'Nu Heat'.
Nu Heat are MCS certified (Microgeneration Certification Scheme). To find out more about MCS accreditation click on the following link: http://www.mcsaccredited.com

At Honiton Plumbing & Heating we take the environment seriously, and therefore we offer a range of products to help you reduce your impact on our surroundings. We will design, supply, install and maintain your renewable solution. Our designers will take into consideration the age, size, standard of build and number of occupants in relation to your home when designing your system, to ensure maximum efficiency.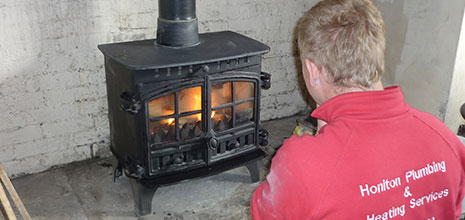 Renewable Heat Incentive (RHI)
Funding will be available from June 2011 to encourage the up-take of renewable heat. The scheme applies to UK industry, business, public sector organisations and householders.
Local Energy Assessment Fund
The new £10 million Local Energy Assessment Fund, managed by a number of community networks and administered by the Energy Saving Trust[External link], will be run as a competition, with the chance for around 200 community organisations to get to grips with energy efficiency and renewable energy generation. Organisations including parish councils, voluntary associations, development trusts and faith groups are all eligible to apply.

There is around £50,000 available for each successful community to be used to help assess the potential for energy efficiency and local renewable energy generation and get things started in local communities. This is a short term scheme where work will need to be completed by end of March 2012.
Interested communities can apply via the Energy Saving Trust from[External link]9am Wednesday 7 December and money will be allocated in two rounds. The first round closes at noon on 22 December 2011 with successful applicants notified in the week beginning 9 January 2012. The second round will close to applications at noon on 20 January 2012 with successful communities notified at the end January.
Carbon Emissions Reduction Target (CERT)
The Carbon Emissions Reduction Target is about reducing CO2 emissions, one of the main causes of climate change. The Carbon Emissions Reduction Target (CERT) requires domestic energy suppliers to make savings in the amount of CO2 emitted by householders, by promoting the uptake of low carbon energy solutions to household energy consumers. This might included loft and wall insulation, plus increasing the amount of energy generated from renewable technologies such as wind turbines, solar panels and ground source heat pumps.
Feed-in-Tariffs (FITs)
Under the FITs energy suppliers make regular payments to householders and communities who generate their own electricity from renewable or low carbon sources. Feed-in tariffs are designed so that the average monthly income from your installation will be significantly greater than your monthly loan repayment (with a 25 year loan). The scheme itself is administered by Licensed Electricity Suppliers and Ofgem. The Energy Saving Trust and the Carbon Trust have been nominated by the Government to provide public information on the scheme and advice on how to apply.
Renewables Obligation (RO)
The Renewables Obligation is the current main mechanism for supporting large-scale generation of renewable electricity. It works by placing an obligation on licensed electricity suppliers to source a specified and annually increasing proportion of their electricity sales from renewable sources – or pay a penalty.
Green Deal
The Green Deal (due to launch in April 2012) will enable many households and businesses to improve the energy efficiency of their properties. The Green Deal will introduce a new finance mechanism enabling the cost of energy efficiency measures installed to be paid back via the energy bill.
Biomass Boilers
Biomass boilers can be fuelled by wood pellets, wood chips, logs and even grain or corn. These provide suffient energy to give most homes their total hot heating and hot water solution via a storage cylinder.
Used by generations throughout the ages in the form of wood burning stoves and open fires, biomass is certainly nothing new. However, in true Baxi tradition, we've used the latest advances to make it even better.
The resulting Baxi Biomass 'Multiheat' is an appliance that cleanly and efficiently uses biofuel to heat space and hot water for homes and businesses. A unit that burns not just wood, but other natural materials such as straw and corn.
Biomass and solid fuel heating is particularly environmentally sound because these natural products are carbon neutral. This means burning them emits more or less the same amount of carbon dioxide as they absorbed while they were growing, causing little or no disruption to the earth's delicate co2 balance.